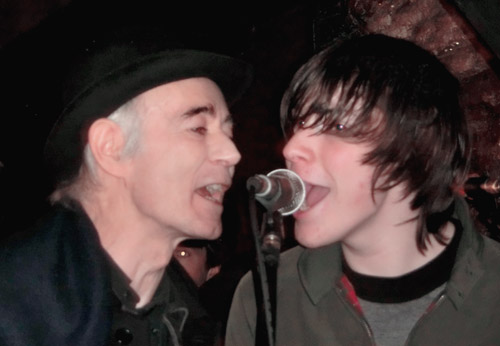 BP Fallon & Ross Farrelly of The Strypes by Risa
We are excited to announce that BP Fallon will be backed by The Strypes at the Lou Reed tribute concert at SXSW in Austin, Texas. How amazing is that? The timeless High Priest Of Happiness backed by the hottest new group in the world.
Both parties are mutual fans. "I believe in BP Fallon" Strypes guitarist Josh McLorey has said on stage (see video below), another time descibing BP as "The biggest legend to ever walk".
Fallon's admiration of The Strypes is well known. Speaking about them to waxoholics.com, he says " I love these guys, love their energy, love their attitude, love their work ethic. If they want it and if the angels allow, they can become the biggest group in the world. And then the floodgates for teen rock'n'roll will burst open again, fresh and refreshed and ready to shake it. Good morning! Long may we choogle.."
Curated by Richard Barone & Alejandro Escovedo, among those also appearing at the concert for Lou are Lucinda Williams, Sean Lennon, The Baseball Project with Peter Buck and Mike Mills, Black Lips, Lisa Marie Presley, Louise Goffin, The Fleshtones, Jesse Malin, Cheeta Chrome, Suzanne Vega, Wayne Kramer from The MC5 – even Spandau Ballet plus Andy Warhol superstar and Rolling Stones 'Sticky Finger' cover model Joe Dallesandro.
The house band is as good as it gets and its core members will be familiar to fans of BP Fallon & The Bandits – none other than Blondie/Bandits drummer Clem Burke, guitarist Lenny Kaye from The Patti Smith Group who's been a Bandit at live gigs in New York, Austin and Ireland's Electric Picnic Festival and Tony Shanahan on bass from The Patti Smith Group with Ivan Julian on guitar and the string section of Matt Fish on cello and Susan Voelz on violin.
Featuring the music of Lou Reed solo and as a member of The Velvet Underground, this concert will be very special and the musical link-up between BP Fallon and The Strypes will one day be one for the rock'n'roll history books.
The Concert For Lou Reed
Paramount Theater, Austin. Fri March 15 at 7.30pm

Modern Times – "see you deep on the heart of Texas"

The Strypes by Eriko Kaneko

BP Fallon/The Strypes – I Believe/Mystery Man

Snapshot!

Still Legal!

Five live Lou Reed fans by Barbara McCarthy
"One fine mornin', she puts on a New York station
And she couldn't believe what she heard at all
She started dancin' to that fine-fine-fine-fine music
Ooohhh, her life was saved by rock 'n' roll
Hey baby, rock 'n' roll…"
– 'Rock'n'Roll' by The Velvet Underground written & sung by Lou Reed