Two Dodgy Geezers – BP Fallon presents Ian McLagan with the album 'Still Legal' on which Mac plays Hammond organ. Photography by Crystal at The Lucky Lounge, Austin, Texas
BP Fallon writes:
It's a year ago today since Ian McLagan died. It was so shocking, this effervescent man so suddenly gone. I heard the news from Austin and in New York I wept. Can I tell you how amazing Mac was/is? No need. You know. Magical on the keyboards, magical as a man, twinkling onwards through any passing storms… Ian 'Mac' McLagan of Small Faces/Faces, played with The Stones, was in Dylan's band, in The New Barbarians with his chums Keith and Ronnie and the mighty Bobby Keys. And so on, including gracing the BP Fallon & The Bandits album with his incredible Hammond organ.
I found this old message that Mac had sent me on FB in 2011. He said "Lots of love BP. If I ever download those pics from my UK phone there's a bunch of great ones of us from upstairs at Whelans. See you soon Mac x". Whelans is a venue in Dublin where Mac had played and we'd had such fun. I never dreamed then that one day he'd play on our record. Well, I never dreamed I'd make records, it never occurred to me. Then it happens. Amazing. I'm so honoured that Mac played with us.
These pictures below are our little tribute to the great Ian McLagan. I wish he was still here with us. I love him. It breaks my heart.
– BP Fallon Dec 3rd 2015

Ian McLagan & BP Fallon during the recording of the BP Fallon & The Bandits album 'Still Legal' at Red Horse Studio in Austin, Texas. Photography by Radek

Mac recording with The Bandits – guitarist Aaron Lee Tasjan hips him to a suggested vibe and Mac's on it. Photography by BP Fallon

Eat your heart out Booker T! Photography by Radek

Bandit bassman Nigel Harrison from Blondie tells Mac what kind of shirts the Small Faces were wearing when he first saw them play live. Photography by Radek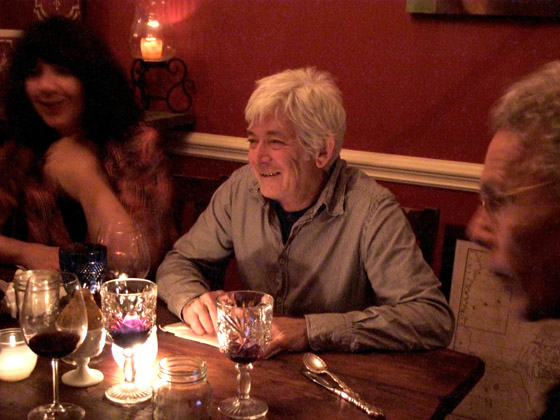 Dinner at Red Horse Ranch – Mac's friend and publicist Jo Rae DiMenno and Mac well chill & Nigel is spacing out at the ultra-ness of it all. Another fantastic dinner, thank you Jimmy & Harper Quill. Photography by BP Fallon

But it wasn't all fun & laughter, there were deep moments of sombre reflection too, of loved ones departed too early from this world… Photography by Radek

Yet even in the dark, Mac was a beacon of light – BP Fallon, Hector Munoz, Clem Burke, Ian McLagan & Aaron Lee Tasjan having a vibe under the stars at Red Horse Ranch. Photography by Radek
And!

Ronnie Wood at home in Ireland with he and BP talking on the speaker phone to Ian McLagan at home in Austin, 1997. Photography by BP Fallon

The mighty Howlin' Wolf & his very young keyboard player Mac

The magical Small Faces – Kenney Jones & Ronnie Lane & Steve Marriott with out front Ian McLagan


When Mac was playing in The Rolling Stones, he & Ronnie & Mick went to see Muddy Waters in southside Chicago at the down-home Chequerboard Lounge

You're Never Alone With A Hat – Bob Dylan & his merry band 1984 – Colin Allen (drums) & Ian McLagan (keyboards) & Greg Sutton (bass) & Mick Taylor (guitar)

The New Barbarians 1979 – drummer Ziggy Modeliste from The Meters & ace sax man Bobby Keys & jazz man bassist Stanley Clarke & the triad of Ian McLagan (keyboard/bvs) & Keith Richards & Ronnie Wood (guitars/vocals)

Two Dodgy Geezers. Nice stitching! 🙂
And flash to Austin in March this year:

'Upward and Onward'- Ian 'Mac' McLagan Remembered
A bunch of Ian McLagan's friends gathered at SXSW in Austin earlier this year to pay tribute to their pal.
On the panel – singers BP Fallon and Patty Griffin both of whom Mac recorded with, bass-player Jon Notarthomas of Ian McLagan & The Bump Band who played with Mac solo too, KUTX radio personality Jody Denberg, Jo Rae DiMenno who did Mac's press and David Fricke Senior Editor of Rolling Stone.
Says BP Fallon here – "What is stardom? Stardom is generosity of spirit and the joy of life made contagious and in that context Ian McLagan was as big a star as anyone".

BP talks about Mac watched by Patty Griffin and David Fricke. Photography by Radek

David Fricke & BP Fallon & Jody Denberg & Jo Rae Di Menno & Patty Griffin & Jon Notarthomas. Photography by Radek

Ian McLagan with Patty Griffin – 'Never Say Never' – The David Letterman Show

Ian McLagan's home in Austin. Photography by BP Fallon

Ian 'Mac' McLagan. May 12th 1945 – December 3rd 2014.
Photography by Theresa DiMenno
Rest In Peace, Mac. And thank you. We love you x