'BP Fallon Live In Texas' ~ front cover
We are delighted to announce the new BP Fallon album ~ 'BP Fallon Live In Texas' is released three weeks from today on Feb 17th by Vibrosonic Records in association with San Antonio label Saustex Records (Saustex SEX 1502).
"I didn't know it was being recorded" says BP Fallon about the new live album. "That's maybe why it has such a great vibe".
Three weeks today !!!
'BP FALLON LIVE IN TEXAS' ~ THE BAND
BP Fallon ~ vocals
Aaron Lee Tasjan ~ acoustic guitar/backing vocals
with
Danny B Harvey ~ electric guitar/backing vocals
Joe King Carrasco ~ electric guitar/backing vocals
'BP Fallon Live In Texas' is a limited-edition CD of 700
iTunes download available shortly
Pre-order the 'BP Fallon Live In Texas' CD here
PRE-ORDER (USA) INCLUDES FREE SHIPPING $16

PRE-ORDER (INT'L – NON-USA)  INCLUDES FREE SHIPPING $24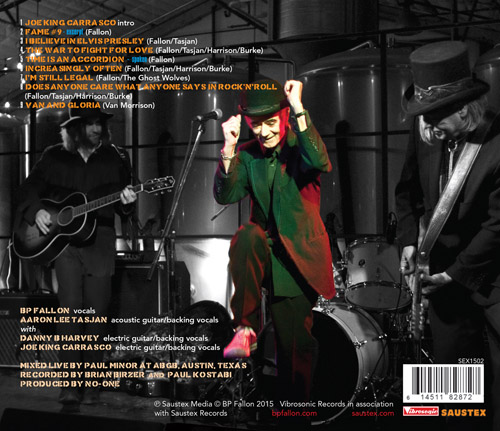 'BP Fallon Live In Texas' ~ back cover
Dean Watusi writes from New York:
"Guitar ace Aaron is BP's musical soul brother/co-songwriter in BP Fallon & The Bandits, as well as his own magnificent solo stuff. His acoustic guitar playing here is genuinely mind-boggling, sometimes gentle and tender and sometimes magnificently deranged like Neil Young on a bender, taking us to places we so rarely hear in new music. Honestly. Listen to his playing here on 'I'm Still Legal'. Stunning.
"Wild electric guitarist Danny B Harvey plays with Wanda Jackson ~ truly and still The Queen Of Rockabilly, she still sets it on fire. And Danny's just completed a West Coast tour with Lemmy of Motorhead, with Danny and Lemmy's band HeadCat. And the legendary Joe King Carrasco, the crowned king of Tex-Mex music, one of the last in a line that embraces Doug Sahm and Freddie Fender and Roky Erickson and Buddy Holly as well as ? & The Mysterians and Sham The Sham, he too plays guitar here like a mother.
"And out front this Fallon fellow singing his songs in a manner of speaking, cool lyrics tongued by this sonic shamen, digging it and being dug, the foot kicking heaven-ward at the joy of it all, the pussy-pink Converse freak-flag of The Glad Hatter. Sometimes thoughtful, always upful. Just say know.
"Recorded live at ABGB in Austin, Texas in front of a crowd of well-vibey and vibed-up fans, 'Live In Texas' features Bandits songs, new stuff, numbers originally recorded by BP with Jack White in Nashville and with The Ghost Wolves in Bastrop in Texas ~ plus the roaring twelve-minute stomp with the three guitars a-twanging through Bandits live favourite 'Van And Gloria' which is more than cosmic and out there and thrilling and rocking. Like rock'n'roll is meant to be".

Four Play ~ Joe King Carrasco & Aaron Lee Tasjan & BP Fallon & Danny B Harvey do it
The album is dedicated to Ian McLagan who sadly passed away suddenly in December. As well as being in the Small Faces/Faces/Stones/Dylan's band, BP's lifelong friend Mac played Hammond organ on the BP Fallon & The Bandits album 'Still Legal'. Wish you were here, Mac, to enjoy this time with us x