Phil Everly (January 19th 1939 – January 3rd 2014) RIP
My Auntie Betty, bless her, owned The Headfort Arms Hotel in Kells in County Meath in Ireland. Then – this is 1959 – it was a sort of hunting/shooting/landed gentry crowd who took of the hotel's hospitality. And this kid home on holidays in Ireland from boarding school in England, this eleven year old boy flush with his first flash of this rock'n'roll thing that was to fuel him all of his life, he discovered in the hotel in his aunt's private and sedate drawing room a radiogram.
This big mahogany lump of furniture housed a valve radio and a gramophone for playing gramophone records, the sound warm and wooden and embracing from the built-in speakers. Already it was an old-fashioned item and something of an anachronistic treasure. Beautiful.
Auntie Betty had a few 78s. Big heavy chunks of 10″ black shellac. I can't remember any of them except one. The Everly Brothers' 'Bird Dog' backed by 'Devoted To You'. It was all I needed in life, to play this record over and over again, mesmerised at the emotion of the voices on 'Devoted To You' and their naughty-to-the-teacher cheekiness on 'Bird Dog' which was teen hoodlum rock with a smile.

The Everly Brothers in England backed by The Crickets and introduced by Alma Cogan – Bird Dog/Until I Kissed You
Years and years later – after all their infamous sibling rancour – when they reunited in 1983 and played The Royal Albert Hall in London they played this song 'Devoted To You' and there's a moment where they're both singing "I'll never be untrue" into the mics with that two-voices-as-one magic and Don looks straight into Phil's eyes and all you see is love.

The Everly Brothers – Devoted to you – Royal Albert Hall 1983
I saw The Everly Brothers when they first played in Ireland in 1966. It was in the Dublin seaside town of Bray, in The Arcadia Ballroom. The dancers stopped twirling to cluster at the lip of the stage to see tonight's star attraction. Don and Phil were no longer glistening in the charts but tonight they belonged to timelessness, the majesty of their harmonies magnetic to the max, they way they slung their gorgeous trademark Gibson Everly Brothers Flattop acoustic guitars around themselves so casually and with such finesse… they way they leaned into the mic together, these two brothers singing with one voice, this magic blending, Don on lead and Phil on harmonies and songs of yearning and lust, rockin' hard one minute and gentle as a floating feather the next…
These Americans, they were stylish on stage, Don's hair still quiffed up and Phil's acknowledging the times with a moptoppish fringe. Their backing band – three guys – had hair like black patent leather and suits with creases so sharp you could shave with them. The drummer was amazing, sharp as an accelerating heartbeat one moment, holding it down like he was pulling the reigns tight the next as Don and Phil's acoustic guitars swirled forward. I was told that the incredible kid on drums, that his name was Jim Gordon (Google him – it's frightening. And beyond sadness into the darkest of madnesses. I knew him a bit when he played with Traffic. Good God).

The Everly Brother in Ireland in 1966 with the Hand twins Michael and Jim – Don centre, Phil on right. Scan by John Foyle
Don and Phil, they had four feet in wild rock'n'roll – dig 'The Price Of Love' with its tremelo guitar and wailing harmonica or their thrilling trilling through 'Be Bop A Lula' – while scooping up fans from the whitebread teen scene without being shallow and playing some of the best country music ever. White soul. American music.
I saw The Everly Brothers again in Ireland in 1984 at the echoey barn of The RDS in Dublin. Again, they were magnetically mesmerising, these two men singing songs of teen and dreams with dignity and elegance and grace, Don and Phil older now and younger than yesterday and forever young.
And now the greatest vocal duo in rock'n'roll is no more. God bless you, Phil Everly. You and your brother stirred my heart and you still stir my heart and I thank you. Rest in peace.
– BP Fallon, Dublin Jan 5th 2014

The Everly Brothers – Phil (18) & Don (20) with their first hit – Bye Bye Love (1957)

The Everly Brothers – Songs Of Innocence And Experience (BBC Arena 1984)(1hr 44mins)
Superb elegiac documentary that tells the tale of Don and Phil as they trace their lineage, starting in their coal mining hometown of Muhlenburg County, Kentucky.
And for your visual delectation, some cool photos and LP covers…

Buddy Holly with Don & Phil
I met Don Everly in 1979 at Hammersmith Odeon when he sang at Paul McCartney's concert in tribute to Buddy Holly. Don, he sang with Paul and Linda and Denny Laine and members of The Crickets. Dave Edmunds and I snuck in backstage because rock'n'roll fan Mrs McCartney said she was too in awe of Don Everly and The Everly Brothers to bring us back and introduce us. Dave was almost-shaking nervous to meet his hero Don for the very first time but he must've said something right because when the Everlys reformed four years later, Dave was called upon to produce the first two albums. I never got to meet Phil Everly. Or Buddy Holly. No hurry now…
– BPF

"They're off and rolling"

Walk Right Back…

7″ EP No. 4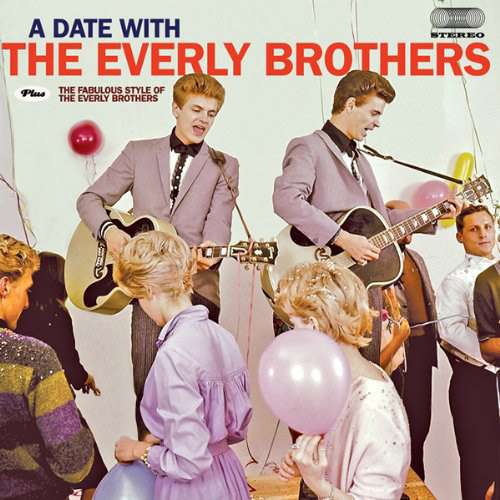 A Date With The Everly Brothers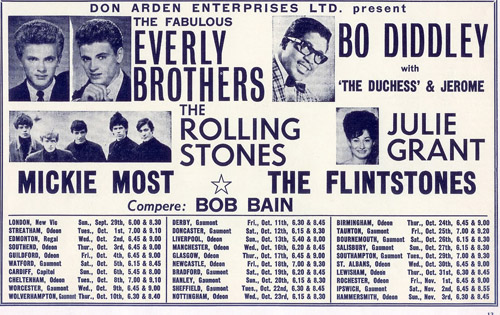 Ist UK tour (1963). Little Richard was added to the tour when ticket sales were poor. This was The Rolling Stones' first-ever nationwide tour; their debut single 'Come On' had just been released. These eager young chaps from the Surrey delta learned at the feet of the American masters.

Phil Everly & Julie Grant & Bo Diddley & Don Everly on the 1963 UK tour

The Everly Brothers – teen dreams forever young