So along come eircom with their new advertising posters. Not exactly a benign scene being depicted – an unhappy girl being manhandled out of somewhere that's supposed to be rockin' by two grim-faced don't-fuck-with-me security guards.

The eircom ad. Photography by Peter Murnaghan
What caught our eye was how eircom – without a bye-your-leave or a nod in this direction – have 'adapted' our Death Disco skull-and-headphones logo on the girl's t shirt. Do we have a patent on all skulls and headphones? No. But look at the ad… eircom have basically drawn a pair of shades over their version of our DD logo.

BP Fallon and Robert Plant at the the benefit concert for Arthur Lee, bless him, at The Beacon Theatre NYC June 24th 2006. Robert sang. BP DJed – in non-eircom Death Disco t shirt. Photography by Bob Gruen.
It's flattering to have one's work – one's art, one's images, one's logos – recognised by the mainstream.
It's disconcerting how this acceptance of something that was once underground and pure and based around music and having a good time is now warped magnetic eye candy for a corporation flogging telephones by any means possible.
Then again… who are we to stand in the way of pop culture influences?
Or… should we sue 'em?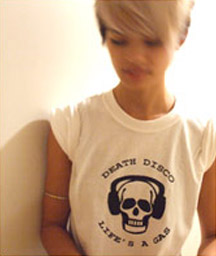 Camille Corazón in her Death Disco t shirt.
Life's a gas.
And while we're at it…


Death Disco badges w/ thanks to Barney in Dublin and Joly In New York