The Kills Jamie Hince & Alison Mosshart at Terminal 5 NYC by BP Fallon

BP Fallon cemented his continuing relationship with The Kills when he made a surprise guest appearance at The Kills' New York show at Terminal 5.

Rock'n'Roll Poet: BP Fallon recites at Terminal 5 NYC by Dana (Distorton) Yavin/Brooklyn Vegan
Walking on stage unannounced just before Jamie Hince and Alison Mosshart played their powerful set, BP stilled the delighted audience to perform a spoken word reading that kicked off with part of 'Fame #9' and lead into The Viceroy Of Verbal setting out his rock'n'roll credo in 'I Believe In Elvis Presley'.
It was the most explosive and interactive solo performance by our sonic poet so far, with the capacity 3,200-people audience enthusiastically cheering lines like "I believe in John Lennon" – altered from the more oblique "I believe in Dr Winston" – and, good Lord, "I believe in marijuana".
Taken by the spirit, our Mr Fallon ended up crouched across the lip of the stage like a cross between Albert Einstein and Gene Vincent. Magic.
BP Fallon and Alison Mosshart met in 2002 at Death Disco in London when he was DJing there with Courtney Love. Since then BP has DJed on Kills dates in America, England and Ireland – but this was the first time he'd given a spoken word performance at a Kills show.
BP's previous spoken word show in America was with The Greenhornes at New York's Bowery Ballroom.
With thanks to Jamie & Alison and their vibey team, with particular thanks to Matt Pollock.

The Kills Alison Mosshart & Jamie Hince at Terminal 5 NYC by BP Fallon


Alison by BP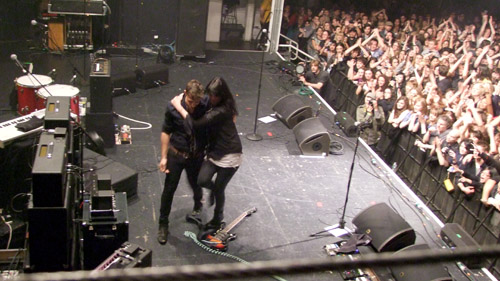 'The Last Goodbye' by BP Fallon

Jamie Hince & fans by BP Fallon

The backdrop to this all: The Kills stage backdrop photographed by BP Fallon