'MACAULEY CULKIN AND BP FALLON IN MOVIE TOGETHER' shock!
Pete Doherty stars too in new Adam Green film.
Adam Green and Macauley Culkin and Cory Kennedy on the high seas in The Wrong Ferarri
Adam Green's film The Wrong Ferarri (sic) premiered in New York at Anthology Film Archives this week. The film stars the irrepressible Mr Green who describes it as 'A Screwball Tradgedy' (sic again). Not unsurprisingly, Adam also wrote and directed the movie – and it was shot entirely on his iPhone.
BP Fallon plays Adam as an old man in forty years time in a wheelchair with tubes hanging out of him – as well as speaking the film's narration.
Also starring in this phantasmagorical ketamine-catalysed opus are Macauley Calkin, Pete Doherty, Devendra Banhart, Har Mar Superstar and Adam's mother Leah Green.
Watch and/or download the entire feature length movie here for free:
The Wrong Ferarri (70 mins)
Must be over 18 (who's counting?)

BP Fallon as Adam Green during Adam's seemingly-addled older years, from The Wrong Ferarri
505diary
The Wrong Ferarri is unlike any film you've ever seen – a 70 minute piece of work that boldly straddles the line between screwball tragedy, surrealist comedy and performance art.
BBC America
Pete Doherty Featured in New Adam Green Flick
NME News
Pete Doherty and Macaulay Culkin star in 'ketamine'-fuelled Adam Green film
New York Magazine
Adam Green Explains His Macaulay Culkin–Starring, Ketamine-Influenced iPhone Movie The Wrong Ferrari
Pedestrian.tv
Adam Green Recruits Hip Indie Scenesters For Film
SPIN
See Macauley Culkin in Adam Green's Comic Movie
ContactMusic.com
Pete Doherty Teams With Culkin For iPhone Movie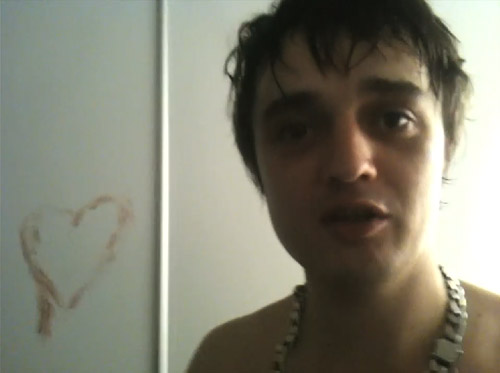 Pete Doherty in The Wrong Ferarri
With Twitter hopping with #thewrongferarri and #thewrongferrari tweets, our favourites so far are @counterboud "I think it's safe to say that #thewrongferarri is the 'Un Chien Andalou' of the drug-addled urban youth of 2011" and @CatrinaBooth "omg the dubbed pete doherty bit of #thewrongferrari just made me piss about 3 river niles".

"I'd liken it to being on the side of a Grecian urn".
🙂