BP Fallon & Gloria Jones photographed in New York April 21st 2011 by Tony Mann.
BP Fallon and Gloria Jones had not seen each other since before the death of Marc Bolan in 1977. Their emotional meeting thirty-three years later at the Flamin' Groovies show in New York was sensitively captured by drummer/pop culturist Tony Mann. Gloria, mother of Marc's son Rolan, was Marc Bolan's girlfriend from 1973 until Marc's tragic death when the Mini that Gloria was driving skidded into a tree; Gloria nearly died too.
The last time BP Fallon and Gloria Jones saw The Flamin' Groovies was with Marc Bolan – when the Groovies rolled into London from America on July 4th 1976 to play at The Roundhouse supported by this magnificent new noise out of New York called the Ramones… and the world was never the same again.
An exemplary musician and singer and song-writer, Gloria Jones played clavinet and sang backing vocals with T.Rex through five albums and recorded with Marc Bolan under her own name too. And way before meeting Marc, in 1964 in America Gloria had recorded the original of Tainted Love before signing to Motown where she produced and wrote songs for The Jackson 5, The Four Tops, The Surpemes, Marvin Gaye and Diana Ross – plus the classic Grammy-nominated If I Were Your Woman by Gladys Knight & The Pips. Additionally, she recorded with everyone from Ry Cooder to Joe Cocker and even sang on Neil Young's first solo album. An astounding talent and a wonderful lady, both then and now.

Gloria Jones & Siouxsie And The Banshees manager Nils Stevenson & Marc Bolan & BP Fallon & Sex Pistol Paul Cook choogling to Johnny Thunders & The Heartbreakers at The Music Machine London 1976. Photography by Ray Stevenson.
Today Gloria Jones lives in West Africa where she runs The Light Of Love Foundation, dedicated to the memory of Marc Bolan. They already have a music school for children in Makeni, Sierra Leone – The Marc Bolan School Of Music & Film – in a community that is just getting electricity. The classrooms have been donated by a local church. They are now opening a second school in a neighbouring community – The Marc Bolan School Of The Arts – which will include fashion and fine art. Here's a video of some of the students:

Gloria Jones – Tainted Love (1964). The song that launched 10,000 dances and had Gloria crowned The Queen Of Northern Soul…

Gloria Jones – Heartbeat (1965). Young Gloria testifies!
Video: Marc Bolan & Gloria Jones – To Know You In To Love You (1977). Marc camp and lazy-river miming, Gloria gorgeous. Pink smoke a go go and lovely Marc guitar solo. Very warm vibes.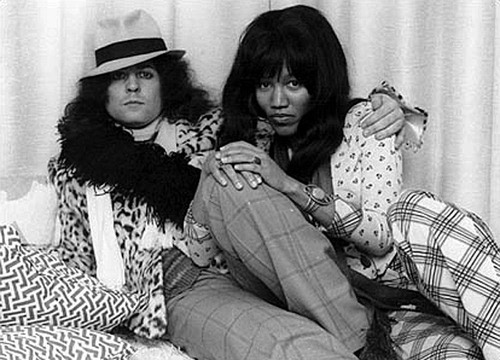 Marc Bolan & Gloria Jones

Gloria

Time waits for no-one: BP Fallon – as Old Father Time –
and Marc Bolan, London 1970. Photography by Spud Murphy

The Marc Bolan School Of Music & Film in Makeni, Sierra Leone
With love xxx