We are delighted to announce that BP Fallon will be DJing and speaking at Ireland's famous Electric Picnic festival.

Photography: BP Fallon speaking at Mindfield at Electric Picnic last year, by lib-lab
Electric Picnic Music & Arts Festival, Friday September 3rd – Sunday September 5th at Stradbally Hall Estate, Co. Laois, Ireland.
At Electric Picnic's Mindfield, BP will speak on the panel 'Unknown Pleasures' in a talk about the past, present and future of the music business/schmizzness, in the company of some of its other enduring legends. Peter Hook – former bass player with Joy Division and New Order – teams up with pot evangelist Mr. Nice Howard Marks in a frank conversation about the fraught past; former Wham! manager and author of the scurrilous book 'Black Vinyl, White Powder' Simon Napier-Bell joins them to talk about the present – and legendary DJ, photographer, lead vocalist and Viscount Of Vibes BP Fallon looks into the future. The panel is presented by RTE and is moderated by Dave Fanning.
Saturday @ 4pm in the Leviathan tent.

Photography: BP Fallon @ Electric Picnic's Mindfield 2009 by Bob Gruen
Dublin's Science Gallery present Ignite at Mindfield. Our esteemed Mr Fallon will give a rapid 5-minutes-with-slides Ignite talk. Title of BP's chinwag-with-visuals is 'Now And Zen: Mind Your Mind And Your Mind Will Mind You' – which could mean anything and probably does.
Saturday @ 3pm.
And after all the sorta-cerebral stuff has been sorted – even more fun and frolics when BP Fallon takes to the decks to DJ at Mindfield, where he headlines under the Science Gallery umbrella (tent?).
Saturday @ 8pm.
"I'm very very vibed up about this Mindfield-Science Gallery-Electric Picnic boogaloo" our Mr Fallon says from New York. "Electric Picnic, with all its many magics like Mindfield and Body And Soul – as well as the incredible music – is an important festival. Last year was a complete gas. I can't wait to be in Ireland at EP next weekend, spinning and doing verbal".
Also appearing at Electric Picnic are Massive Attack, Leftfield, Roxy Music, Public Image Ltd, LCD Soundsystem, Modest Mouse, The National, Lucent Dossier Experience, Marc Almond, Crystal Castles, Mumford & Sons, Hot Chip, Steve Earle, The Horrors and a cast of hundreds more.

Photography: May The Road Rise To Meet You – the road to Electric Picnic by BP Fallon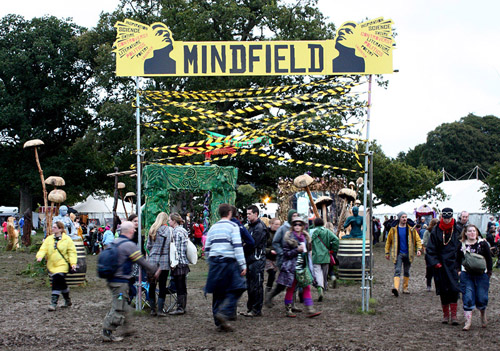 Photography: Mindfield at Electric Picnic 2009 by BP Fallon

Photography: Cosmic lights at Electric Picnic 2008 by BP Fallon
More effervescent EP pix:
1) BP Fallon & The Kills, My Bloody Valentine, Shane MacGowan & The Sex Pistols @ Electric Picnic 2008
2) The BP Fallon Orchestra & Chorus at Mindfield @ Electric Picnic 2009