"… one of the most unique 45s this year"

'Fame #9'
"'Fame #9' is my favourite spoken word track ever and is certainly up there with Lenny Bruce's 'Psychopathia Sexualis' or David Shrigley's 'The Jist'".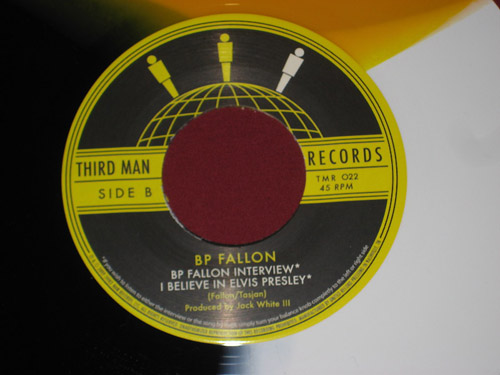 'I Believe In Elvis Presley'
"This track is pure magic… Got this one on constant loop. Could this be the best/first 45 to name drop Oscar Wilde and Lewis Carroll? Just love everything this tune encompasses…"
BP Fallon Interview by Jack White
"Again this track for me is pure gold… The booming of Jack's disembodied voice over the talk-back monitor… is like BP is being interviewed by his own conscious (sic) or God himself".
Much more here on Seanear1ey's Blog
The 7" vinyl 45 single is available for only $5 or the equivalent at the Third Man Records Online Store and at groovy record stores globally
Buy the tracks on iTunes here
– only 2.97 for all three tracks!
Pictured above: the limited-edition tricolour vinyl of the BP Fallon 45. Nashville's United Record Pressing have pressed only 150 – 100 to be sold at the Third Man Records store in Nashville at 623 7th Avenue South, Nashville TN 37203 tel: +615 891 4393 – and 50 to be inserted randomly into online purchases
Pictured below: jukebox tag for the 45

Footnote: today three short months ago the single was recorded at Third Man Studio in Nashville. It was a Sunday, too. Which didn't make it an easier secret to keep!
More 'Fame #9' on bpfallon.com